Hello…
Apologies for the delay. I hope you weren't waiting for me. I wasn't able to get the November newsletter out as I hurt my arm and could hardly move it for a few days due to a repetitive strain injury. My main problem was I couldn't write and could barely hold a book for a while. Made worse by the fact that all my hobbies outside of writing were all using the same muscles. I occasionally paint/draw and recently took up lino print cutting. I couldn't do any of these things. So my big advice is to be gentle with yourself.
This month I'd like to talk a little about art. The quote above is from a speech by Neil Gaiman, which was later included in a book illustrated by Chris Riddell called Art Matters. I have two copies. One for reading. The other, I removed pages and framed them. There's some good advice in there and I'd recommend everyone who is creative to listen to the speech on YouTube.
I've been watching…
Another weird anthology series called Tales From The Loop on Amazon Prime. It's a sci-fi series where each episode is based on Simon Stålenhag's artwork. Stålenhag's work isn't something I've encountered before, it's been called Swedish Suburban or Kitchen Sink Sci-Fi. The paintings have mostly retro, semi-rural settings alongside futuristic technology.
The series is in the same vein. The characters stumble upon large metal orbs and robots with indifference, as though these things have always been part of the landscape for them. It's very slow but it's visually very beautiful. Each story connects to the next through reoccurring characters.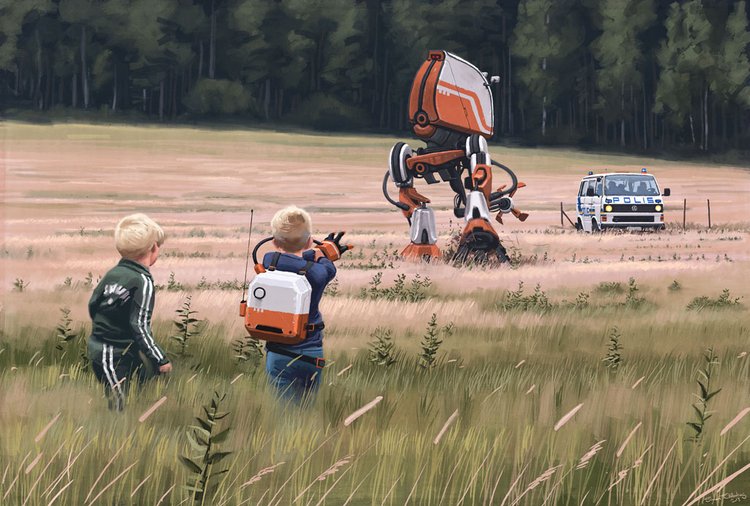 The art actually reminds me of another painting – Christina's World by Andrew Wyeth. I think because of the detail in the landscape as well as the fact the people in both Stålenhag's and Wyeth's works are turned away from the viewer. It draws you into the picture.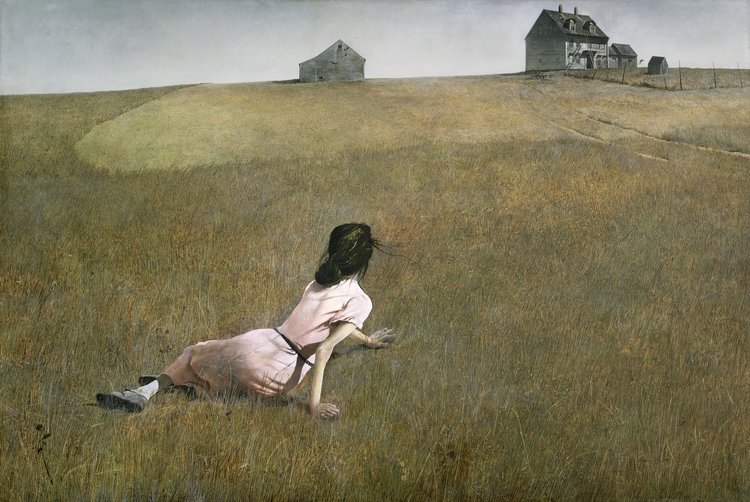 I've been reading…
Autumn by Ali Smith. I thought this might be a good year to start Ali Smith's Seasonal Quartet, starting with book one (Autumn) and getting around to Winter later in the year. Set just after the EU referendum in the UK, it deals with a lot of issues around immigration. However, the main characters bond over an interest in Pauline Boty, a British female Pop Art painter.
I'll be honest, I had never heard of Boty and had to look her up after I finished the book. Similar to her male counterparts, Boty worked in a mixture of painting, collage and print. She died young, at 28, and her work had been forgotten about for thirty years before being rediscovered. Ali Smith wrote an interesting piece on Pauline Boty in the Guardian.
I recently bought a book on William Morris from The Bookshop, Coleraine. I'm a big Pre-Raphaelite fan and a few years ago, I wrote a book based on the work of Elizabeth Siddal and Dante Gabriel Rossetti. William Morris did feature in the story as he was Rossetti's apprentice and, later, friend and business partner. I hope someday to visit the Red House that Morris designed, as there are some panels painted by Siddal and very few of her works still exist today.
Until I read about the Pre-Raphaelite Brotherhood, I was wary of art history. I thought it was something very lofty and I couldn't write about it as I didn't know enough about art. However, I read every book I could get my hands on about the lives of the artists, how they worked and the techniques they used.
I do not want art for a few any more than education for a few, or freedom for a few ~ William Morris
Although I never got around to publishing the novel (yet), I did use part of the research on Elizabeth Siddal's life to write a short story that won the historical fiction competition in Writing Magazine in January. Although no artwork is mentioned in the story, it was definitely inspired by many of the paintings that was modelled on Siddal.
Let's get writing…
Pick one of the pictures in this email, a particular art piece you like, or use an art randomiser (like this one) to find a prompt. Or you could explore the Google Arts and Culture site to find a work of art.
Imagine you are the artist, working on the piece. What inspired you? If your piece is a portrait, what is the model like? If it is a landscape, does the place hold some significance to you? What do you enjoy about creating the artwork? What are you finding difficult? What are the tools you are using? What materials? How do they feel under your fingertips? Using all your senses, what is it like to work on this particular piece?
Zoom into one particular detail or person in the artwork. Describe it. If it is a person, describe how they feel about being the subject of the painting. Or it is a background character, what do they know about the model or even the artist?
Pick a colour on Google Arts and find a picture. Describe it using all the words for the tones and shades of the colour.
Imagine you are a life model and one day someone you know comes into the class. What is your relationship with the person? How do you feel about seeing them? Are you happy/sad/angry/embarrassed?
Write as though you are someone killing time in an art gallery – what does your character think of the artwork on the walls? Does a particular piece resonate with them? Does it reaffirm their mood or viewpoint on life or does it change it?
Find your art doppelganger, imagine you've time-travelled to the era in which the painting was created. What is your life like? Why are you sitting for the painting? Is a portrait to celebrate a special occasion or are you an artist's model out of necessity?
If any of this helps with your writing, let me know and I'll see you in the new year
And don't forget…